On this page I will posting about online learning and life in lockdown.
Day 1
Hey bloggers,
I have started a page where I will be telling you what it is like in lockdown and how online schooling if for me.
Today I have been given a timetable that tells me what I will be doing and the lessons I have.  Sometimes we have an assembly online where everyone in the school joins and the principal will talk to the whole school.  Here is what one of our class meetings.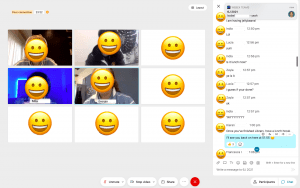 In the city it is like a ghost town because no one it out they are all stuck in their houses. The roads aren't bust at all and kids 12 and over have to wear masks so I have to wear one when I go out. When using online school websites it can be hard because the computers can glitch which makes it hard to work.
Thank you for reading!
Gabby
Day 2
Hey bloggers,
today is our second day of lockdown. At the beginning of the class meeting we all got to share our pets so I showed my dog. We have many other activities to do today which will fill up our day.
I hope you enjoy reading my journal.
Gabby 🙂